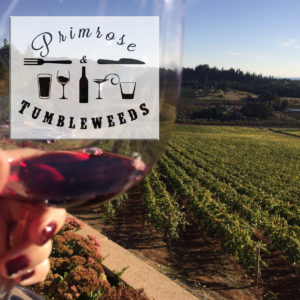 Primrose & Tumbleweeds is a restaurant and wine bar located in Downtown Hillsboro, Oregon.
We are open 7 days a week and serve a menu of delicious items made when when you order them from fresh, locally harvested ingredients.  We feature house smoked BBQ, Sandwiches, Salads, Small Plates to share and decadent desserts from Papa Haydn.  We have a Weekend Brunch with omelettes, waffles, biscuits & gravy, and more.  Our menu does change seasonally.  We have become well known for our World Famous Hungarian Mushroom Soup. 
We feature live music and many events throughout the year.  See our calendar for the schedule of events or sign up for our weekly email newsletter and have information delivered to your inbox weekly.
We also have a hidden Speakeasy bar that is open to members only throughout the year, open to the public during special summer hours and is available for private events.  Contact us for information on how to book an event or see the Tumbleweeds Saloon page to purchase a membership to the Speakeasy. 
How We Have Evolved 
Primrose & Tumbleweeds opened as a retail bottle shop on April 30, 2011.  The plan was to expand into a restaurant and wine bar in early 2012, however due to the overwhelming response and requests we decided to move up our timeline and we began serving food, wine, beer and cocktails on October 7, 2011.  
2013 brought exciting changes such as wine educational offerings, winemaker dinners and other special events.  In November, 2013 we opened the Tumbleweeds Saloon, a membership only Speakeasy.  Join today

We serve a delicious menu of house smoked BBQ, Sandwiches, Salads, our World Famous Hungarian Mushroom Soup, desserts from Papa Haydn, a weekend Brunch menu and more!  Our menu changes seasonally and always features dishes made when you order them, using fresh, locally harvested ingredients.
Due to customer support, feedback and input we have continued to expanded and grow.   As we look toward the future, we will continue to evolve and are excited about each coming year.   Be sure to check our event calendar at the bottom of this page and sign up for our email newsletter to learn about what we have planned next.
 Because of the support of our customers and community we have quickly gone from a small bottle shop with 47 choices of wine to our current selection.  We have fast become the destination for Oregon Wines!  We have won many awards and accolades which you can see below and read through what our customers and the media says about us on the Accolades Page.
 We are excited to offer our customers some of the best wines available in the Pacific Northwest and no corkage fee.  Our wines are priced as you would find in any retail wine shop but at Primrose & Tumbleweeds you can sit down and enjoy a bottle with your meal at the same price.  We want to encourage you to drink the best possible wine and then take a bottle home to enjoy later.  We are lucky to live among some of the best wines in the world – Oregon Pinot Noir continues to be recognized alongside wines that have been enjoyed for generations.
If a bottle of wine is more than you'd like to drink, our "Today's Pour" list rotates frequently so each time you come in you will be able to enjoy a different Oregon Wine.  We offer tastes and glasses so you can work your way through your own tasting flight from our list.  Join us for live music to make your experience complete. 
We welcome tour groups and requests for special events and gatherings.  Contact us to arrange your event, we want to make it special for you and can offer a special wine tasting, whiskey tasting or other offering just for your group.
Primrose & Tumbleweeds
248 E. Main Street
Hillsboro, OR  97123
Phone:  503-703-8525
We are one block north of the 3rd & Washington MAX stop right in the heart of Historic Downtown Hillsboro
Open 7 Days a Week 
Thanks for visiting our "About Us" page, we hope you'll visit us soon at Primrose & Tumbleweeds.
Doug & Dawn Sellers